Poppy, 17, stayed on at sixth form to continue her studies and hopes to study abroad next year in the US to start an international career.
After collecting her GCSE results last year, Poppy chose to study A Levels in Maths, Physics, History, Religious Studies and the Welsh Baccalaureate in sixth form.
Poppy has set her sights on studying at Yale University in the United States next year for a degree in International Relations and Climate Science.
During sixth form Poppy has been part of the Seren programme, a Welsh Government initiative to helping Wales' brightest students achieve their academic potential.
She said: "I've definitely found it a challenging year, having to do most of my studies virtually. I found my confidence was knocked a bit at the beginning because I wasn't used to learning online and it was more difficult to ask questions.
"It definitely got easier as the school year went on and because I've had more time on my own it's given me the chance to reflect on my values.
"I'm currently attending the Yale Summer Session which is being delivered online. It starts at 4pm and runs until 2am so it's tiring but worth it as I've really enjoyed it. I've had to make sure I nap in the daytime to catch up on sleep!
"I have always wanted to go to university and I'm really looking forward to going next year. Originally I wanted to study law but it's not really for me. Once I started researching, I realised there's so much more than law or medicine, there are plenty of other course options out there.
"I really want to be able to help people and do international aid work when I graduate. I'd like to work with vulnerable women and help communities. Doing a degree will give me the best start for doing that."
---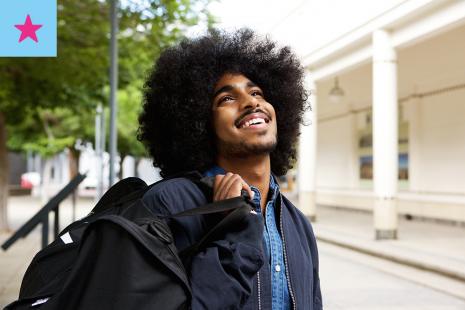 University and higher education
Learn about going to university, including UCAS Application process and timeline. Also includes studying abroad.
---
Read more real life stories